In the Santa Rosa Hills (ekphrastic poetry challenge)
Artist: Dan Shepley (Used with permission)
Our mountain life is simple, as a country life can be.
Around here, I know everyone, and everyone knows me.
I'm there at their beginnings, and sometimes at the end.
I am a nurse, a counselor, a soldier, and a friend.
I dearly love my work, although it barely pays the bills;
I am the only midwife in the Santa Rosa hills.
There are no steady hours, and the job's a marathon.
Last night I pulled a midnight shift and went to sleep at dawn.
I guess I'd keep my clothing cleaner if I were a clerk,
But midwives, cooks, and undertakers never want for work.
Although I have no family, besides my teenage son,
The village kids, through middle school, I caught them, every one.
And now young Ana runs to me; I see her down the way.
It's time, it's time, she says to me; the baby comes today.
I saw her mother yesterday, amid the market throng,
Her smiling face and swollen belly, seven months along.
I fear it is too early for the babe to have a chance,
The tiny thing condemned by an unlucky circumstance.
There is no time to worry, for there is no time to waste.
I gather up my bag and hurry with her in her haste.
A funny fact of life is that it never goes to plan.
I must deliver Ana's baby brother if I can.
As long as there are children born to families, as God wills,
Then I will be a midwife in these Santa Rosa hills.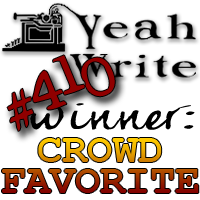 Writing prompt: Ekphrastic poetry (describe a work of visual art)